Emma Larsson- The Story Behind Your Stuff Fall 2017 Winner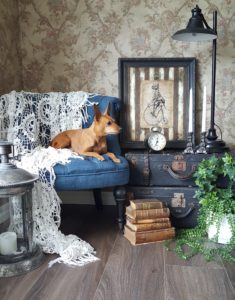 My husband and I have worked in our own company since 2012 but he started it about two years before we met in 2009. I was so lucky to meet the man of my dreams who gave me the rich life I live today. And by rich I don´t mean money rich. I am rich because he and my son gives me all the small things in life, the things that really matter.
So let me tell you the story about me and how I ended up making my paintings.
I have always been a really creative person, from young age I did draw for hours, made farms, houses, town constellations from paper. I watch my mother crochet, sew, embroidered and I learnt all practical things very quick and I still do. I love working with my hands and use my creativity and imagination. But as you grow older time is all about job, money and all the commitment there is for a grown up. So I had to put my creativity to the side a lot. And eventually it made me miserable. It felt like I was just chasing time, "if I do this first then I will have time to work on my ideas". But the "firsts" never ended and when I had some time over I was just too tired to do something else.
Before I met my husband I was in a really bad place in life, I lived with an abusive man for 15 years. I was just seventeen when I met him. That life did leave many scars but I was a happy person and loved life. I did not see all the damage he had done to me. I did not see the wounds because my mind was just too stressed out. I was like "sure I had a hard life the last fifteen years but I´m fine, just fine". I did not see or listened to the signs my body was given me. I mean, I had met the man of my dreams, given birth to our baby boy and living a life I didn´t think was possible a couple of years before that. Then one day a situation trigged my brain to go in to a fight and flight mode. That was the day when my Complex Posttraumatic Stress Disorder was triggered. Or living hell disorder as I call it. I´m sure anyone with C-PTSD or PTSD can relate to that.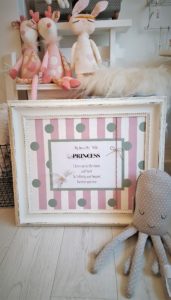 My life, my whole inner self got turned upside down. And I struggled with severe stress, nightmares, paranoia and depression. I used to love life! I had always been a fighter! And now I was just pieces of my former self. I lost my life spark and felt like I was the loneliest person in the whole world even if I had a crowd of people around me.
About six months later my two year older brother died in a heart attack. This was one month before our wedding. It literally felt like someone took a knife and cut me wide open. The pain was just horrible and after our wedding and honeymoon I hit the rock bottom. I tried to keep myself together but I was just broken. I had panic attacks several times a day and I did not know how to fix myself. So I started to read a lot what was wrong with me and did read about C-PTSD, the symptoms was like reading about myself. Eventually I did find someone who was able to help me. Giving me the tools to handle the stress and some other symptoms so I could go back to being me again. The Emma that loves life, she who loves to laugh, joke and loves having people around her.
I just had to fix myself because the place I was in was not a life anymore, it was a nightmare.
I´m not free yet but I´ve come a long way. The struggle have been both hard and sometimes fearsome. And there are still days that I fall into that deep black hole again. But I´m getting there. With my loving husband who always supports me and helps me up again and the love for my creative and enriching work. After these four years of struggling I´ve come out even stronger than before and more humble to the power of the mind.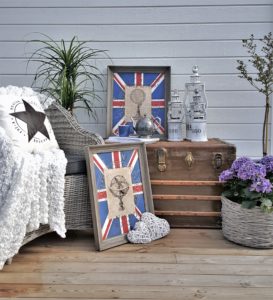 Of course my previous work got affected from all of this. Our company was entirely internet based. All my work was based in front of a computer and I had a brain that did not collaborate with that. I had trouble reading, concentrating and it felt like my brain was like a pot of mashed potatoes and like I was going to throw up every time I tried to do some computer work. Last year we both agreed that I had to do something else. I wasn´t able to work as I did before. So in January this year I started to make my paintings. And when I say paintings I don't mean that I paint landscapes or portraits or something like that. I guess I could call it interior decorating art or something. I re-make old vintage paintings that have been forgotten by the world. That would probably end up in a dumpster or just get dusty and Cobb webbed in an old antique store. I love interior decorating, it´s not a hobby, it´s a part of who I am. I love antique shops and flea markets. The feeling in old things gives me peace in my mind, it gives me so much joy to bring home some French window shutters or an old flaked corbel. An antique table or some antique glass ware to drink in.
My mother always say that the special feeling in old things are because they are made in a slow pace. Not like today when everything must be made as fast as possible and as cheap as possible. No old things are real craftsmanship, someone have put their heart and soul in the thing they made. And I think that´s what you feel from these old things. Combined with new things they bring harmony into our homes. They give the home some help to slow down I think.
Antique and vintage frames with damaged edges and the gold finish who have seen better days, I can only see perfection in these things.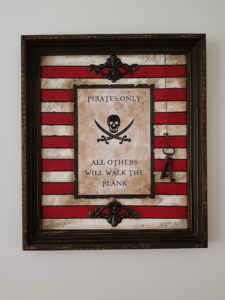 I wanted something for my own walls at home but I couldn´t find what I was looking for until I saw these old paintings and my creativity wheel started to work. I started to think of store signs from the 1800´s and early 1900´s, circus tents and tickets from back in the days, flags, driftwood, skeleton keys and other antique stuff that I love. Why not make paintings that fit the interior. So I re-use the paintings, paints various backgrounds. In some I make quotes, in some I use stencils or prints. I use whatever comes in my mind when I see a frame or a framed painting. I take a lot of my inspiration from the Victorian era, the patterns, woodwork and architecture are just stunning. I love Steampunk as much as I love farmhouse décor, shabby chic, New England and Industrial design so I combine and do different paintings in different styles.
Let´s face it. A vintage or antique framed painting, even if it´s with or without ornate is so much more beautiful than a plain fast made metal or plastic frame!
I am so blessed to be able to work creatively with the things that I love. To get up in the morning knowing I can make my own beauty and give new life to something that is forgotten to the world and would probably never get up on a wall again as a painting. It gives me joy to know that the old paintings are still there, under my work, they just got a new outfit. And it´s also my way to preserve the environment.
My work heals me, it completes me and it brings me so much joy every day. -Emma Larsson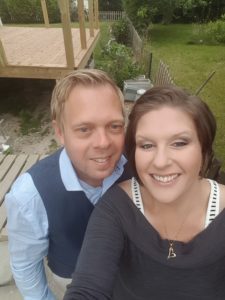 -Emma Larsson
follow @lovelyness_by_e on instagram
*All "The Story Behind Your Stuff" contest winner stories and images are written and provided by the product designers/artists themselves. Please do not duplicate or redistribute without permission.
Enter your email to join the Your Favorite Place® Magazine Inspiration Team! Gain access to exclusive content and offerings. Engage with our editors, designers, and people featured in our magazine. Submit ideas, people, and products for consideration in future publications.