Design Masters, China- "Design @ Life"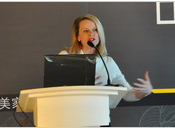 MBID interior designer Madge Megliola was asked to be a featured presenter at Markor's Design Masters event entitled "Design @ Life" .  Multiple presentations given by Madge on various interior design topics caught the attention of several television, news, and magazine media outlets covering the event.  As a result, a press conference and multiple private interviews were scheduled with Madge to learn more.
Below is a snapshot of Sina's coverage of the Design Masters event translated into English.  The links will not work in the translated version as it is an image.  However if you wish to see the untranslated coverage on the original Chinese website CLICK HERE.
Click anywhere on the screen shot image below to zoom.