International Interior Design Training Programs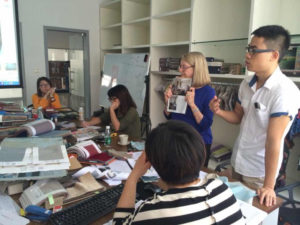 In 2010 we began working in China to provide international interior design education in cities including Beijing, Shanghai, Shenyang, Urumqi, and Dalian. In many cases, the students are professional design consultants have been specially chosen to receive this training. Students complete 88 hours of intensive study in two weeks.  They are taught key design foundations including topics like selecting and coordinating fabrics, colors, and patterns.  They are also learn about the latest international design trends and how to recognize out-of-date features.
For example, one of the exercises is learning about hue, saturation and value of color by mixing paints to produce the complex colors found in fabrics.   The images showing fabrics laid out on chairs shows the students' work, selecting and coordinating prints, geometrics, and plush solids.
Each study intensive is jam packed with interior design classes, full scale residential interior design projects, and several media events covered by numerous international news and magazine publications and a major Chinese television network- SINA.