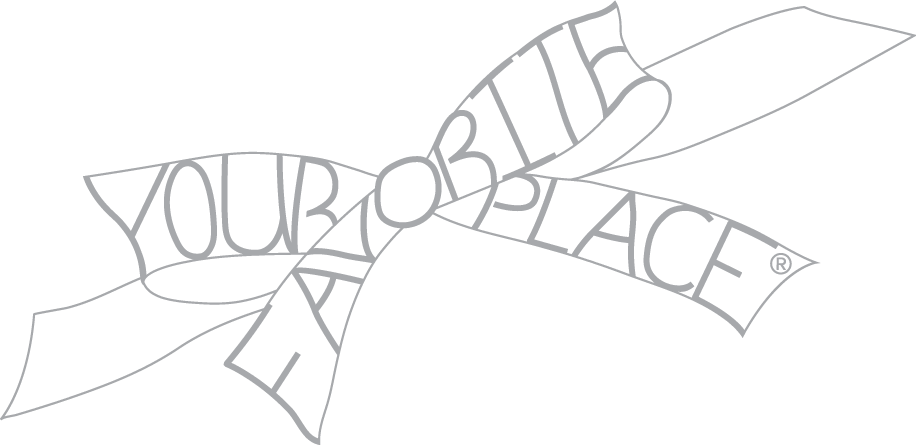 Andrea Edwards- The Story Behind Your Stuff Fall 2017 Winner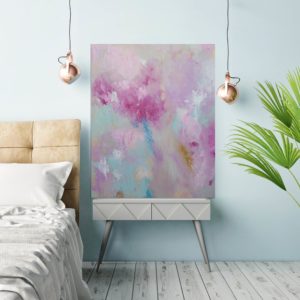 I loved art as a subject at school, was a good student and excelled with drawing and other creative projects. Lately I wondered what it would have been like to go straight from schooling into art college as I'd read about in the profiles of a number of other artists. Orderly, expected, perfect and exciting perhaps?
As I was a little younger than art school liked to intake at that time; they explained, sorry, we really like your portfolio but please come back next year….
In that following year and many, many years afterwards, everyday life took over, entirely. I decided that any kind of art career was out of the question and doomed before it even started. The whole idea got put away, locked up with the key buried somewhere. As far as I was concerned, art was a door that should just remain shut if I wanted to have a normal life.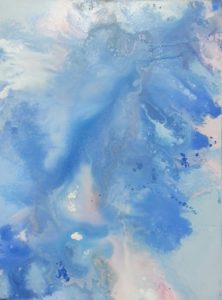 It's said you can only live forwards and then understand backwards, in retrospect, if you're lucky. I like to think now that somehow everything that I've experienced work wise and personally to date, all of it, has somehow perfectly prepared me quite adequately for this journey with art, that's happening today. That's it.
With the global financial crisis and a myriad of more local situations, I unexpectedly found myself needing to reassess what I was doing and just about everything else. As a series of pivotal life events unfolded and kept unfolding; it felt as if almost everything I knew or thought I knew…was crumbling.
During this testing time, my dear, long suffering husband, fully aware of my earlier interest in art, kept getting me canvases, paints, supplies etc and encouraging me to just get started. I thought it was a lovely thing to do, and yet so very annoying at the same time. How indulgent, what a poor use of time, this is crazy, I thought. I now recognise this as the greatest gift.
As I started with the paints, slowly at first then rapidly, inspiration flowed and kept flowing. I was amazed, humbled and a bit shocked. Colours, fresh ideas, sparked by nature usually; texture, patterns, finishes etc. More works were completed, each distinctive and vibrant. I'd see some in dreams, others, I just start to work and inspiration comes in. People around me started asking questions, a lot of questions and some of them were not at all supportive and yet weirdly it did not deter me much. This flow of painting was so much bigger than any voices of negativity or fear. I kept going, step by step, it just felt simply, right. I was learning to trust and go with this flow!
Certain outcomes, timeframes, expectations, ways sensible people measure things, were no longer applicable. I was in scary and unknown territory but strangely it felt natural, comfortable and yes, I was pleased to be here! I share slices of conversation with others similarly engaged, most often there's a shared, easy understanding. Few words are needed and what is at times difficult to explain to many, seems obvious, simple and logical even.
Fast forward to today and I've had several exhibitions, more planned for next year. I sell my original paintings via a number of online platforms, have started working with social media and am busy and eager to see what comes next.
It's not something I can imagine taking for granted; becoming enabled to create something special; artwork that people can enjoy in the spaces they inhabit.
When big things, the unexpected or change happens in life, it's always surprising to see who walks out, who stays, who walks in and who believed in you and offered unconditional support throughout. I feel we're all on a journey of some kind and with this in mind I like to contribute an amount from my art sales to charitable causes.
– Andrea Edwards
follow @andreaedwardsart on instagram
*All "The Story Behind Your Stuff" contest winner stories and images are written and provided by the product designers/artists themselves. Please do not duplicate or redistribute without permission.
Enter your email to join the Your Favorite Place® Magazine Inspiration Team! Gain access to exclusive content and offerings. Engage with our editors, designers, and people featured in our magazine. Submit ideas, people, and products for consideration in future publications.