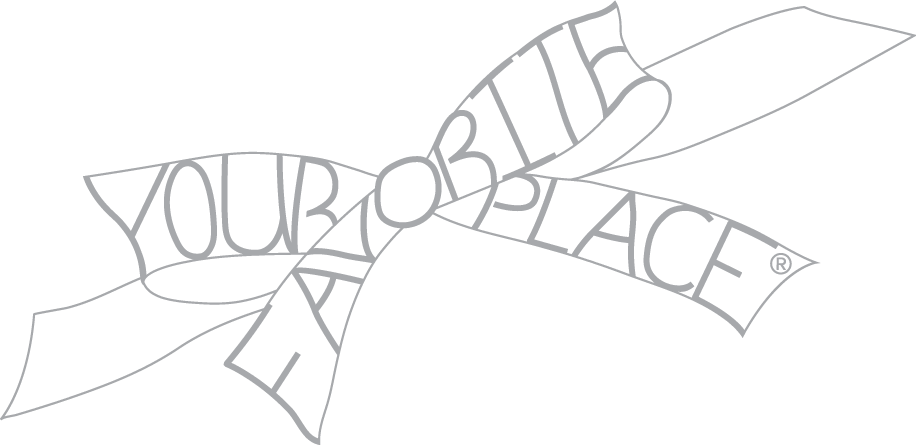 How to Capture the Fresh Energy of Springtime in Your Space!
-Madge Megliola, Your Favorite Place® Magazine Contributing Editor
What a wonderful time of year!  Never is Mother Nature more bold or beautiful than in the spring.  Everywhere there is the promise of new life and vitality!   One of the reasons I look forward to Spring is that it is a wake-up call for change!  With the first signs of spring, we know that the dull cold and grey skies of winter will gradually give way to an exhilarating season of warmth, sunshine, and new growth.
With Spring as inspiration, we have lots of choices for re-energizing our homes! The bold, raw energy of changing weather may encourage you to take dramatic steps.  Here are some ideas that combine old and new in a lively mix:
The "Sprinkling" Effect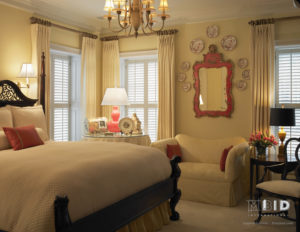 Elevate the mood of your rooms! Add strong spring colors in small amounts to your interior for dazzling contrast.  Soft or neutral interiors, even those exhausted from the close confinements of winter, respond beautifully to the injection of vibrant hues such as coral, fuchsia and chartreuse.
Vibrant coral pillows and accessories ignite the energy in this peaceful bedroom.  The dramatic impact of strong color is moderated by the "sprinkling" effect.  Tossing the accent color about the room in controlled ways allows for lots of neutral space between the pops of color, making them maximally effective.
Maximize Natural Light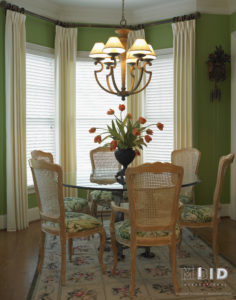 Remove heavy swags and valances from windows and hang light-weight or open-weave fabric panels to the sides of your windows.  Materials that allow light to pass through them create a sense of airiness that connects you with the outside.  Glass, wicker, and open window shutters or blinds can help create a fresh, open-air look in any room, even one that is bound by four solid walls.
The fresh feeling created by the light of multiple windows in this breakfast room is enhanced by light wood tones, cane-back chairs, glass-top table, and a crisp color scheme of white and Spring-green.  The final touches of a floral needlepoint rug and tulip centerpiece complete the room, suggesting an outdoor garden effect. 
Spring Table Setting Ideas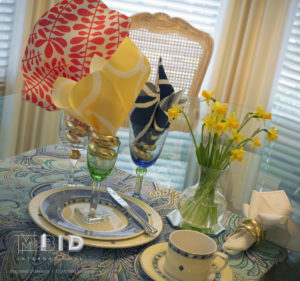 Refresh your dining table!  Capture the dynamic energy of spring by pairing new fabric colors and patterns with your traditional porcelain and pottery for creative table settings.   "Greenery", the pantone color for 2017, is available in fun stemware, placemats, and accessories.  Because it's also a great food color, it is a perfect complement to dining room and kitchen décor.
The blues and emerald greens of this place setting evoke a fresh, breezy spring day.  Cool, watery colors create an instant energy when paired with vibrant yellow, orange, or navy blue.   Fabrics with bold colors and fun patterns are plentiful this year, and lend a youthful, happy touch to the table.
If it's the balmy soft breezes and fragile new growth of spring that you love, then pastel colors and refined patterns are for you.  Here are some ways to introduce the delicate qualities of a perfect spring day into your home:
How to Incorporate Pastels in Your Interior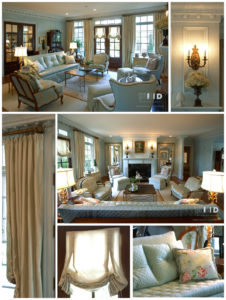 Use light shades of blue, ivory, and blush tones to add a soothing calmness to your interiors.  Avoid "baby blue" and "baby pink", these tones are too bright!  Instead, choose pale blues and pinks with grey undertones, then pair them with dark woods and refined lines to create a serene, graceful room.
Pastels and luxurious fabrics create this luscious, classic living room.  Ivory draperies and pillows with rose floral motifs contrast softly with the delicate blues, creating a light, elegant tone that is harmonious with the most gentle of spring days.
How to Incorporate Sunny Colors in Your Space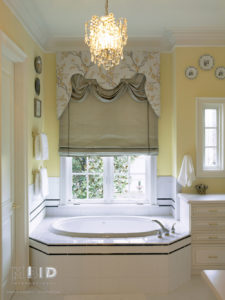 Bring the balmy, happy feeling of springtime into your personal space!  Choose soft sunny colors and light neutrals to maximize the natural light in your space.  Spring air feels cleaner, fresher, and brighter.  Drawing attention to the windows with new fabrics and treatments will enhance your enjoyment of this welcome change.
Drama and softness are created simultaneously with this classic window treatment in dove grey and pale yellow.  For perfect function, a Roman shade of the same silk provides privacy when necessary.  With black and white tiles, pewter accessories, and mirrored surfaces, this bathroom is a cheerful and rejuvenating personal space.
How to Use Color to Control Energy Level in Your Space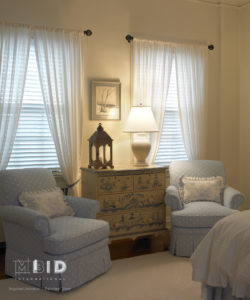 Decide on the energy level you want for a room, then choose the color combination that creates it! White or ivory paired with one other color can create a variety of moods.  A strong hue such as blue, green, or yellow paired with white creates a sharp, crisp feeling, while pastels with ivory  yield soft, dreamy surroundings.
Pastel blue and ivory create this inviting bedroom that feels restful, personal, and luxurious.  The energy of this room is subtle and softly invigorating.
---
Spring is a season of many faces – whether you love the boisterous energy and color of boundless sunshine, or the soft atmosphere and delicate hues of a shaded glen, springtime offers the eternal allure of a fresh new start with endless potential.  It is the perfect season to harness some of this remarkable energy in your home.  You will feel refreshed by the smallest changes – enjoy!
Enter your email to join the Your Favorite Place® Magazine Inspiration Team! Gain access to exclusive content and offerings. Engage with our editors, designers, and people featured in our magazine. Submit ideas, people, and products for consideration in future publications.