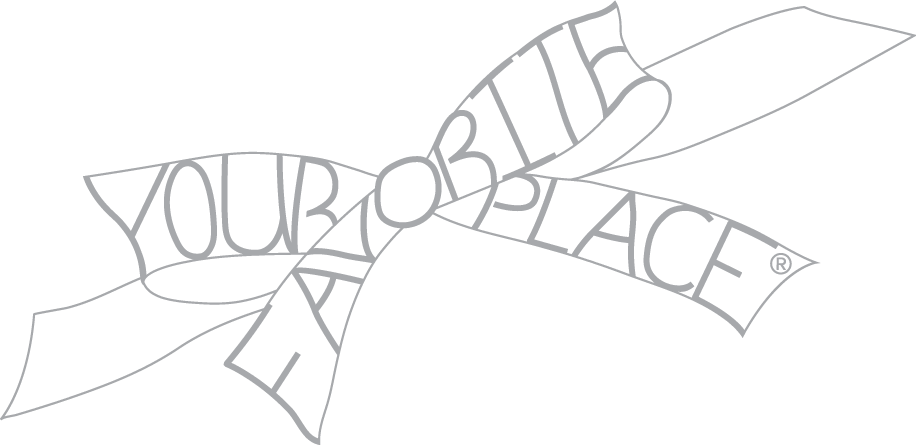 Classic White Kitchen + Fun Color= Spring Cheer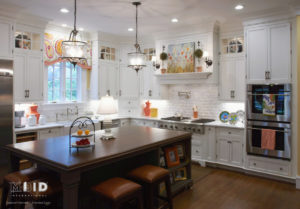 "We were honored when local Greensboro NC, luxury custom home builder Patrick Parr asked MBID International, Inc. to join him once again on a new construction design of his own personal home." says interior designer Mary Elizabeth Beal. Parr's company, Classic Construction of North Carolina, is highly sought after for work on homes with classical architectural features, elaborate details, original architectural elements, and stylistic treatments many of which were hallmarks of the periods in which they were built.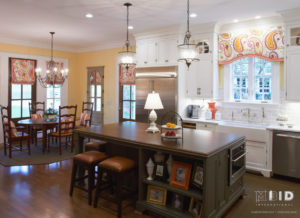 Classic Construction is known for making additions or renovations to these special homes which require extensive knowledge about period construction, and a careful approach to replicating both the signature styles and craftsmanship that were originally utilized. "We thought it was a great collaboration between us, Mary Elizabeth, and the kitchen cabinet supplier." says Parr.
Though there are many spaces throughout the home worth noting, the kitchen is a personal favorite of Beal. "We worked closely with Pat and his wife Kelly to design a kitchen that was appropriately appointed for the classical style architecture of the home, but still fun and family oriented for their two young children," says Beal.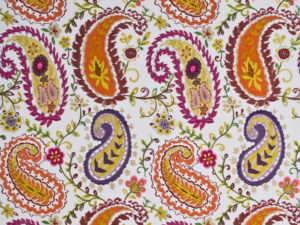 She continues, "the fabric we found for the window treatments set the stage for all of our other design decisions. Paisley prints have been around for centuries and typically have a very traditional look. However, the overscale re-interpretation and bold use of color in this amazing fabric by Lee Jofa had us almost giddy with excitement." Beal designed clean, classic upholstered cornices and roman shades with a coral color gingham check fabric for the banding to help relate the otherwise whimsical print back to its elegantly tailored surroundings. Little wooden balls were painted yellow and hand sewn to the bottom edge of each treatment for a little added fun.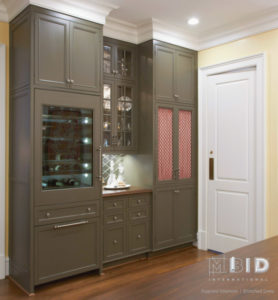 "We used the same coral gingham check to make a custom curtain insert for one of the cabinet doors in the kitchen dry bar. This helped to break up the look of the solid charcoal paint we selected for the cabinet doors as well as balance the visual weight of the directly adjacent wine fridge" says Beal, "and Kelly finished off the look by tracking down a stunning antique glass tile for the dry bar backsplash".
Project Roll Call:
Custom Home Builder: Classic Construction
Kitchen Cabinets: Innovative Kitchens and Baths
Interior Design: MBID International, Inc.
Enter your email to join the Your Favorite Place® Magazine Inspiration Team! Gain access to exclusive content and offerings. Engage with our editors, designers, and people featured in our magazine. Submit ideas, people, and products for consideration in future publications.