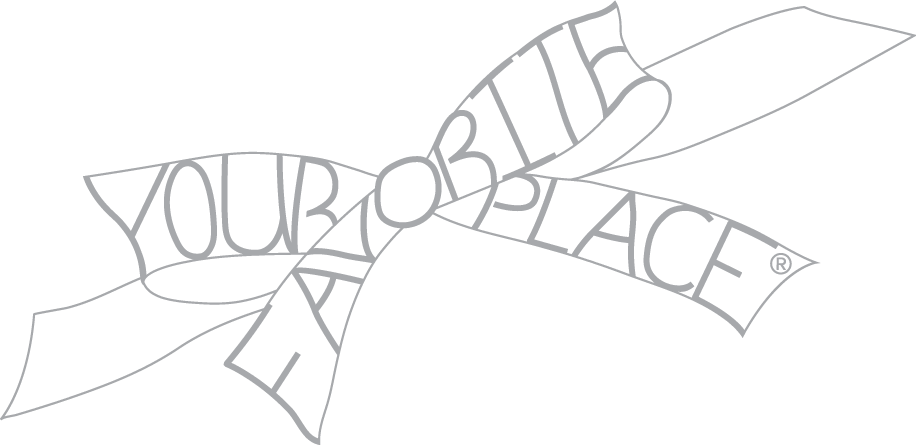 Designer #SummerTable #PlaceSettings Round Up
Decorating your table may fun and easy during autumn, winter, and spring seasons. During these seasons place settings are a simple extension of your other holiday decor. However, many struggle to find inspiration for a beautiful tablescape in the summer. We contacted a few of our instagram home decor friends and asked them to share their inspiration for their table this summer.
**All submissions are written by the designers in their own words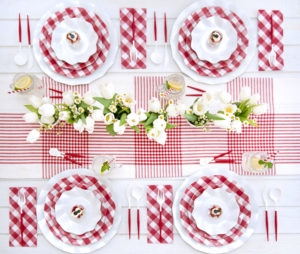 "Whether I'm hosting a summer barbecue, Saturday night get together or a picnic style couples shower, my tables call for chic and easy. I love to set a theme or color palette (2-3 tops), scatter fresh or wild flowers in unusual vessels, and most importantly, add an element of surprise, such as a signature cocktail (hello Rhubarb-75!), hand-lettered placecards or a small gift to thank my guests for coming. Love a pretty summer table without all the clean-up? Enter @sophistiplate. Their Vichy Red pretty Gingham paper and Bella Flatware shown here, is designed for easy entertaining and looks far from disposable." @tableanddine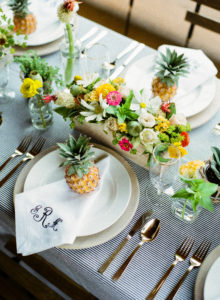 "My inspiration for this tablescape was a clean and preppy aesthetic mixed with some cheerful tropical vibes. Pineapples are a symbol of hospitality so I Incorporated them into the design so guests would feel welcomed as they took their seats. The crisp color scheme of black, white and gold gives the design some modern undertones but the light woods and bright flowers help provide some whimsy as well! Aside from the mini pineapples, my favorite detail of the design are the monogrammed napkins at every place. This is the ultimate Southern detail and a creative placecard idea!" @jenriosweddings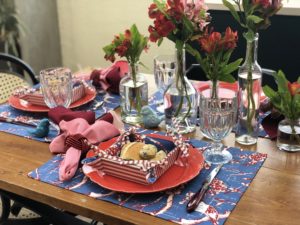 "I really like to use color on the table as it brings a lot of joy. Mix of colors and prints are fine, it's pretty cool, mainly if you use your crockery. To use what you have at home is fundamental. Another thing that makes all the difference on the table are flowers, even if it's from your garden." @blaussmaison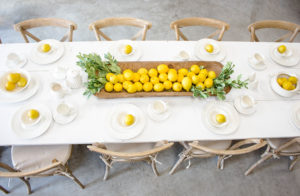 "When life gives you lemons, make a table setting. Summer is such a season of rest and I want my home to reflect that with elements that are simple. A big bag of lemons from Costco and some white dishes not only make a simple set up for myself, but it gives guests that restful summer feeling as well. It's so easy to overcomplicate design, but using natural elements will never go out of style." @farmhouseliving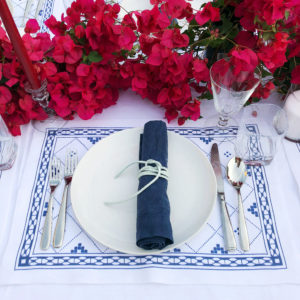 "This Greek dinner party was loosely inspired by the colors and flavors of the Adriatic: classic blue and white table linens; a simple, fresh, healthy menu; and a scene-stealing bougainvillea table runner. For our blue and white place settings we layered Anfa blue and white linen placemats on a solid white linen tablecloth and topped with navy blue linen napkins. Evoking a strappy Greek sandal, we tied the napkins with white leather cord and used simple plain white dinnerware. Having the Greek dinner party theme made picking floral arrangements easy – Bougainvillea climbs all over the blue and white houses adding vibrant color to the streets and gardens all around the Greek islands. We replicated the look by foraging around our neighborhood in Los Angeles for clippings of the passionate, vivid red flowers to lay down the middle of the table as a runner-cum-centerpiece." @Huddleson
"I was inspired to complete this table setting after finding the cute lemon sprays at Pottery Barn. I love that the lemon trend from last year is sticking around again this summer. I like mixing patterns and birght colors together, so I chose black and white buffalo plaid table runner as the foundation. I found the pots at Michaels and added a few olive branches to complete the look. It makes me long for hot, summer days!"
@nwfarmhouse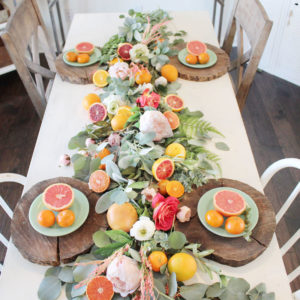 "Oranges, peonies, grapefruit, roses and seeded eucalyptus fill the table with summer vibes.
Plus the smell of fresh cut citrus is so inviting and will make any guest feel welcome. Caroline Bivens from CB Designs used tree slices and vintage jadeite plates to keep a mix of textures and colors"
@c.b._designs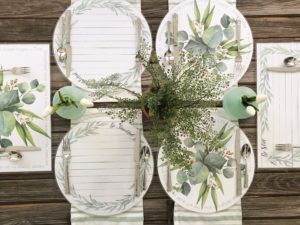 "At Robyn's French Nest, we believe that home is your haven and family is your focus. The best designs combine function and beauty, which is why I love these heavy duty, acrylic placemats with interchangeable inserts. Summer is slower-paced and a great time to bring the family back to the table. For our family, these make everyday family dinners special while still easy to clean…our three young children clean their own placemat with a wet wipe after their meal! In collaboration with Tinge Daily, I have created designs that inspire our family and I hope it uplifts yours as well!" @robyns_frenchnest
Enter your email to join the Your Favorite Place® Magazine Inspiration Team! Gain access to exclusive content and offerings. Engage with our editors, designers, and people featured in our magazine. Submit ideas, people, and products for consideration in future publications.