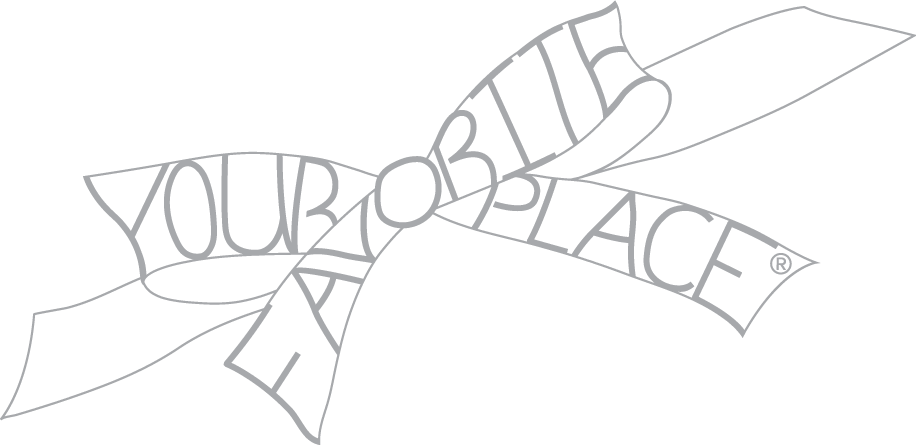 Hotel Patrons are Redefining Luxury
Hotel Patrons are Redefining Luxury. How Will This Change Your Hotel Furnishings and Decor Strategy?
Text by Mary Elizabeth Beal, ASID NCIDQ | Hotel Interiors Featured Designed by MBID International | Photography by BCook Media and Sunsethills Photography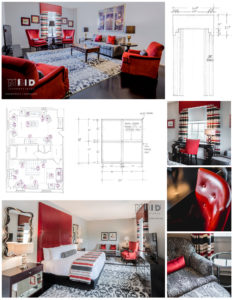 Many large hotel chains and small privately owned hotels alike have found success crafting a signature look that works well for them. They then stamp it throughout every room and (in the case of a franchise) across the county the same way each time. Perhaps it has something to do with the old adage, "if it ain't broke don't fix it", or the comfort of knowing that the winning recipe for your secret sauce has never let you down.
Signature branding is important for hotels, whether you are a large chain or a small privately owned boutique. The results have proven this to be a winning strategy time after time. You don't have to look too far to see the testimonials and case studies. Repeating that signature look in every room and in every location also comes with the added benefit of significant cost savings so it is understandable why this strategy is so appealing.
But is a branded furnishings and decor strategy right for your hotel? The answer to that question can be found by asking yourself, "What criteria do our clientele use when selecting a hotel? What will entice them to return time and time again?" If you know that the only criteria your clientele use in making a selection is price, then developing a simple, repeatable, cost effective look that you can affordably recreate over and over makes sense.
However, most destination hotels, luxury resorts and boutique hotels know that their clientele are looking for something more, something different, and something exciting. They want an escape from the expected norm of the everyday, but they also crave the comforts of HOME. So how can your hotel do both? How can you offer an exciting getaway experience while still providing a home away from home? Before we discuss that, let's take a closer look at two emerging target markets for hotel clientele, the Baby Boomer generation and Millennials.
As the baby boomer generation continues to move into retirement, and millennials continue to enter the workforce (many in jobs where travel is often more of a glamorous perk than a requirement) hotel branding and marketing strategies are rapidly changing. Hotels are now searching for ways to successfully appeal to and serve the interests of both generations.
It may seem on the surface that there is very little that the retiring boomers have in common with the "starting-to-find-their-path-in-life-millennials". However, one important common interest they both share is luxury. And, interestingly enough, both generations show clear signs that they share very similar perspectives on luxury… an interpretation that may surprise you. Understanding this rapidly evolving definition of luxury, studying which goods and services your patrons are willing to pay extra to enjoy, will be key to the future success of all hotels.
Luxury has traditionally been associated with opulence and extravagant living. In the mid to late 1700's, affluent American colonists began adding chinoiserie and French toiles to their interiors. Merchants in colonial towns sold imported silk, wool, and linen fabrics and furnishings carved from mahogany, elm, and walnut in the William and Mary, Queen Anne and Chippendale styles. Skilled craftsmen made intricate pewter and silver pieces for those who could afford it.
The décor of Victorian Era (roughly 1837-1901) was in large part the result of a belief at that time that the opulence of your interior was a way to demonstrate your status and wealth. During this time many believed that plainness or emptiness of any kind suggested lack or insufficiency and was in poor taste. Therefore every available surface was festooned and ornamented.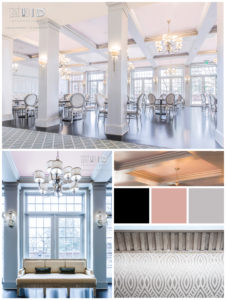 Fast forward to the post war late 1940's. Although a more modern aesthetic had begun to emerge, traditional European influences were still heavily represented. Hollywood movies began to influence décor and many sought to recreate the glamor of the silver screen in their interiors. Though slightly more modern in their design, spaces continued to be very formal and intricately detailed.
Luxury, for centuries, continued to boast, "Bigger is better! More is more!". Every surface was excessively adorned with lavish layers of sumptuous extravagance! It is understandable why too much of that at some point became overwhelming, and people began to seek out simplicity and clean lines and a "less is more" lifestyle.
At the close of the 20th century, as Generation X consumers began their careers and families, and began furnishing their homes and businesses, they began to reject anything that looked like something that was in their grandmother's house. This was less about disagreeing whether lavish formal décor looked nice. It was more likened to a rebelling against the rigid rules and requirements and expectations that came with anything too frou-frou or fancy.
Thus the focus of luxury shifted from extravagance to comfort. The Merriam-Webster dictionary defines luxury as, "a condition of abundance or great ease and comfort." Hotels everywhere started to shift their strategies to a focus on providing comfort as a top priority.
However, here is where many went wrong. Comfort does not necessarily mean casual… which has been the default décor strategy for many brands/ hotels aiming to appeal to the Generation X tendency to link casual with comfort. Many people from both the boomer and millennial generation claim they actually feel more comfortable when they are wearing an outfit that is either tailored, well made, or at the very least, styled and put together with careful thought and intention. Many add that they are more comfortable when they are confident, and they are more confident when they are slightly more dressed up or formal. They feel the same about their homes, the restaurants they frequent, and naturally the hotels they book.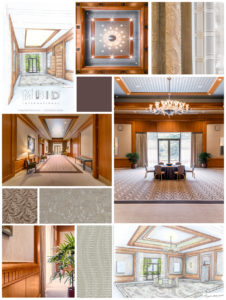 Many associate a more casual style (both in clothing apparel and décor) with lack of effort, lack of detail, and lack of quality craftsmanship. If your hotel décor strategy was to go with a relaxed casual look in an attempt to provide more comfort… there is a good chance that strategy may not be working as well as you hoped.
So, if luxury (or that thing people are willing to pay extra for) is not automatically associated with over the top extravagance and opulence, at least not at the expense of one's comfort, but your target market is suggesting casual does not necessarily make them comfortable either… then what in the world are they willing to pay extra for? How do they define, or better yet how are they re-defining luxury? And what does this mean for your hotel interior décor strategy? And what about that earlier question I didn't answer? How can you offer an exciting getaway experience while still providing a home away from home?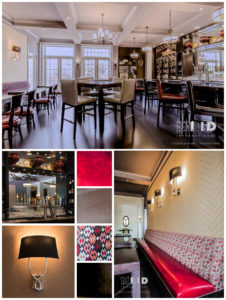 Below are some simple strategies you should have your interior designer incorporate into your hotel design, furnishings and décor plans.
STRATEGY 1. Intimacy = Exclusivity:
One of the reasons for the growing appeal of the Boutique Hotel is the feeling of intimacy. Boutique Hotels are typically a smaller, more intimate option. There are fewer people, giving you a more exclusive feel. However, you don't have to have a small establishment to capitalize on this concept. Many hotels are moving away from the traditional, overscale, grand, wide open spaces in the public areas and instead opting for several smaller, quieter, communal areas where guests can come out of their rooms and be around other people in a more inviting space.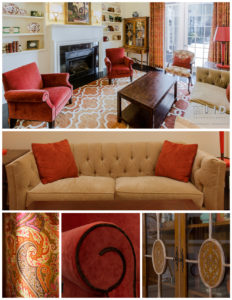 STRATEGY 2. Personal Touch Increases Perception of Comfort and Luxury:
The attention your staff pays to your patrons is a vital part of offering that "personal touch". Similarly, taking the time to focus on even the smallest of details in your décor can really make a noticeable difference in the level of comfort and luxury a patron feels. Walt Disney has been quoted as saying "people can feel perfection," in reference to how important it is to pay attention to every little detail. You may question the return on your investment of taking the time and spending the money to make sure every fabric, every tile, every lamp, and every trim on each little pillow is selected with intention and installed with precision… you may wonder how many people will really even notice in such a brief amount of time during their stay. However, the time and care you invest in even the smallest decision pays off in the overall resulting impression and experience each patron has with your hotel. While that small extra detail may not be what brought them there in the first place, it will most likely be that personal touch that brings them back time and again.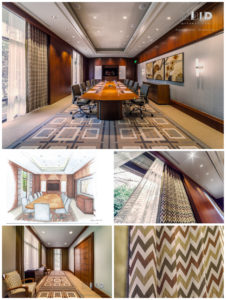 STRATEGY 3. Don't Sacrifice Charm for the Sake of Brand Identity:
One of the main complaints about the mass duplication of signature branded hotel interiors is the lack of charm or character. Granted, no one wants to stay in a dilapidated, falling apart, or culturally irrelevant space… but part of the appeal of the boutique hotel model is often the creative re-imagination of spaces that used to function as something else and are now serving a new purpose. Sometimes the odd quirky flaw of an outdated floor plan layout becomes the shining star of the entire property. Now, don't brush this tip off because you only build and run brand new facilities. Character can also be added to a brand new interior. Simply taking the time to invest in ways to add interest and detail and that little something special to a new space can really go a long way to adding character to a space.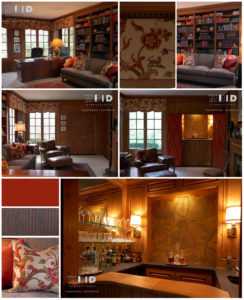 STRATEGY 4. Cultivate an Emotional Connection Between your Guests and the Local Community:
One of the reasons many people opt for boutique hotels is their proximity to exploring the local area. Resorts are often tucked away, boutique hotels are generally well integrated into cities allowing patrons to meet locals and really experience the culture. However, you don't have to be nestled in the historic downtown district to offer insight into local culture and history. Support and celebrate local artisans and craftsmen by sourcing local materials and finishes. Encourage your design team to draw inspiration from local history and culture to incorporate into design elements throughout your property. Local sourcing is often more sustainable and environmentally friendly. Farm-to-table dining is rapidly gaining ground in the restaurant industry as people begin to seek out healthy sustainable food options grown by people in their local community. Likewise, your hotel guests appreciate a local connection between the décor and the local community. This can be accomplished with something as simple as featuring paintings, sculptures, and photography from creative local residents. However, many hotels are even beginning to use local craftsmen to produce some of their furniture and accessories and textiles. If you don't have access to local artists and craftsmen, at the very least you should consider selecting a color palette and textures that reflect the local culture. Avoid the temptation to default into simple kitschy themes, and instead take the time to develop a subtly curated look that demonstrates your property's unique insight into your community.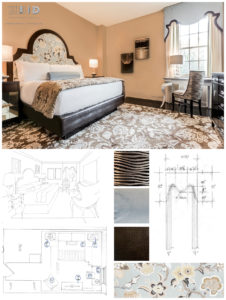 STRATEGY 5. Fuse Classic Historical Architectural Elements with Updated Color Schemes and Material Applications:
If your property has existed for a significant length of time and/or your property is or will be located in a historically significant area, it is important to preserve that history in your design plan. One of the best compliments we received on a recent new construction hotel project we were a part of, was when someone to asked, "What was this building before it was a hotel"? They could sense tradition and historical significance by way of our design. The irony is the property was a mere parking lot just a few months prior. That said, in order for your property to feel fresh, updated and grand it is important to incorporate updated styles, color schemes and innovative furnishings products. Steer clear of popular trends and gimmicks which tend to date themselves. This unexpected mix should introduce a touch of whimsy and surprise that is sure to foster a memorable guest experience.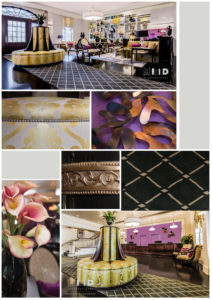 STRATEGY 6. Balancing Extravagance with Simplicity Promotes Sumptuous Comfort:
Even our most luxurious hotel design clients are seeking ways to simplify their décor. The less is more approach is especially attractive for the budget hotels which struggle to compete with the budgets for luxury furnishings that high end hotels entertain. However, do not remove all formality and splendor! You still want spaces to feel well-appointed and you want to avoid creating an atmosphere that is too casual as it may cheapen the overall impression of your space. The key is to focus on a few prominent luxurious elements and keep everything else clean and simple.
You don't have to have layers and layers and layers of luxury on every single surface. Negative space is not at all negative. In fact it actually serves to endorse the special details you invested in so they are more prominent and significant. In addition, giving the eye a place to rest in between elements of decor magnificence will encourage your guests to unwind and relax as they admire those special details.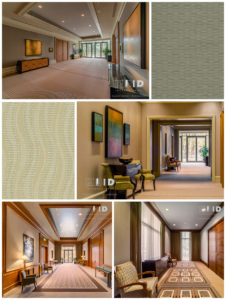 STRATEGY 7. Authenticity:
Put your best foot forward, but be sure that foot is real and genuine and a true reflection of your identity. Figure out who your most loyal patrons are, find out what they like, determine the best way to serve them. Then look at your brand, who you are as a hotel, and find a way to show how you are uniquely positioned to serve them because of who they are and because of who you are. Take authenticity one step further and specify real quality made products. If you are following our previous tip of simple beauty, you are incorporating a less is more approach in focusing on a few key items to make your hotel unique and luxurious and wonderful. Because you are not spreading the budget around on more is more, you can invest in real quality made products that are sustainable, eco-friendly, non-toxic. You can afford to specify furnishings and décor that have been made with care vs mass produced or poorly constructed, simply to stay in budget.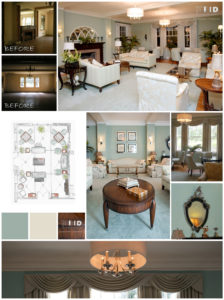 STRATEGY 8. Aesthetic Appeal Alone is No Longer Adequate:
A fabulous look is no longer enough in the world of hotel interiors. Your interior design needs to promote an atmosphere that leaves your guests FEELING grand and luxurious. The furnishings and textiles you specify need to both look impressive as well as feel sumptuous. Take the time to source furnishings that are comfortable enough for guests to slow down and lounge in, but are still striking and remarkable in form and detail. Curate a space that is full of personality and interest, AND is enticing and inviting so guests linger long enough to enjoy and appreciate your efforts.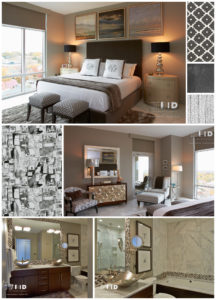 STRATEGY 9: Hospitality Design with a Residential Touch
Curating a memorable "Home Away From Home" environment requires your hotel design team to develop a comprehensive plan for designing interiors that are luxurious, dynamic, exclusive, and prominent, while still offering atmospheres that are accommodating, welcoming, and inviting. Design firms with extensive expertise in the custom details residential clients expect in their homes will give your team an advantage, as these clients are also your hotel guests. Their high standards for quality and attention to detail is now on their list of expectations for their home away from home.
The shift in design helps guests feel more comfortable, thus fostering return stays. However, just as comfort does not necessarily mean casual, "homey" does not necessarily mean your swanky hotel needs to become a quaint BnB. Functional interiors that are warm and inviting is a good first step, but recognize that what makes each person's home feel like home and not just a house is the details. It's the personal touches, stories, memories, and loved ones behind each special piece in each room.
Making each room a little different from the last gives the hotel a more eclectic, curated feel. This is easily accomplished by making simple slight changes to the color scheme, patterns, or layout of individual rooms and by adding unique art or other elements throughout the space. This way, the room is designed to make it feel more like a personalized master bed and bath instead of a hotel room.
Reevaluate furniture pieces that may be obsolete and consider swapping them out for something that would be more useful to your guests. For example, two furniture pieces that have been standard in every hotel guest room for a long time are the desk and the armoire. The evolution of the bulky tv to a low profile flat screen that can be mounted made the armoire obsolete. Similarly, consider your guests may want flexibility to work from multiple spots in their rooms. Consider specifying furniture pieces that could better accommodate and support them than a traditional desk.
Consider the potential your lobbies and other communal spaces would have if they evolved from pretentious and somewhat cavernous spaces lacking in furniture, to more welcoming spaces with furniture layouts that invite guests to host or join frequent small, or even large communal gatherings. Living room-like furniture groupings, evolving your check in area, or even the elimination of traditional front desk, can really shift the atmosphere and guest impression of how the space could be used. Imagine the experience your guest may enjoy if their arrival included sitting down in a comfortable chair at a communal table, or a sofa by the fire to enjoy a cocktail, as your staff member sits next to them and checks them in from a tablet instead of standing behind the wall of the counter.
As the traditional office setting rapidly shifts to accommodate working from a home office and/or remotely on the road, the lobby (similarly to the local coffee shop) is again becoming a hub of business and pleasure, and many hotels are bringing back the open-lobby concept.
In addition to flexible meeting space, this space is once again becoming an additional amenity or perk for guests to experience and enjoy their stay vs simply pass through at check in. If you are seeking ways to add additional hospitality and entertainment (even offering something as simple as wine and cheese or afternoon tea) your furnishings selections and placement should be specified intentionally to be flexible for supporting a range of special events. If you can get guests out of their rooms and into social spaces, that is where they begin to create memories and feel more at home.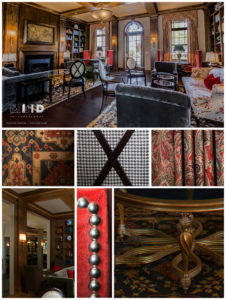 STRATEGY 10. Design Spaces to Cultivate Unique Experiences and an Escape from the Everyday Norm
Use caution with your home-away-from-home selections to insure you are not making your selections to common and safe. You are not developing an actual home that someone needs to live in every single day. When people go on vacation, they are willing to try new exciting things. They test out new foods and new modes of transportation that may not be something they would enjoy every single day, but are fun for a weekend. Think of this home away from home atmosphere as more of a vacation home where your guests are willing to take some risks and have some fun with their décor selections because it is not a space they will live in every day. Your guest may never consider purchasing purple décor for their home, opting for safer more neutral furnishings. However, they may love the sense of adventure with booking a purple room to stay in on a trip. It offers them an opportunity to get outside of their usual patterns, and experience something new, with minimal required commitment.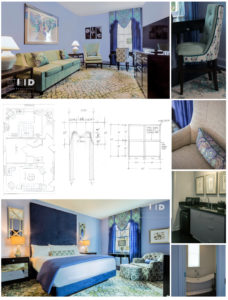 -Mary Elizabeth Beal, ASID NCIDQ is the principal interior designer and owner of MBID International Inc. MBID International Inc. is North Carolina's leading interior design firm specializing in both luxury, boutique hotel design and residential design projects for clients seeking specialty spaces and custom personalized upgrades. Established in 1987, MBID has over 30 years of experience working with these two distinct areas of design, developing unique expertise in designing interiors that are luxurious, dynamic, exclusive, and prominent, while still offering atmospheres that are accommodating, welcoming, and inviting.
"When our clients are home, they want to feel like they are on vacation… and when they are away, they crave the comforts of home. We design interiors for luxury and boutique hotels and HOMES for people who want to live a 5 star lifestyle every day."-Beal
Enter your email to join the Your Favorite Place® Magazine Inspiration Team! Gain access to exclusive content and offerings. Engage with our editors, designers, and people featured in our magazine. Submit ideas, people, and products for consideration in future publications.