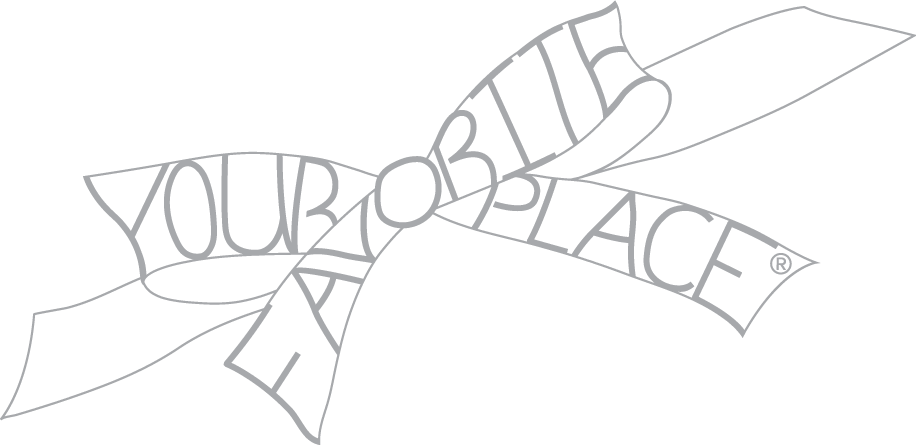 Ruth Wicker Tribute to Women Barber Park Event Center Interiors by MBID
Interior designer Mary Elizabeth Beal ASID NCIDQ, President of MBID International is honored to have participated in the design of the interiors of the new Ruth Wicker Tribute To Women and Event Center at Barbour Park in Greensboro North Carolina. A project 10 years in the making, the grand opening exhibition is dedicated to honoring about thirty women that have greatly impacted and contributed to the city of Greensboro. The grand opening was held on Friday, Jan. 25 at 1502 Barber Park Dr. to an overflow crowd of several hundred people as numerous dignitaries, elected officials, and members of the Wicker family made opening remarks. To see more about the opening see links at the end of the article.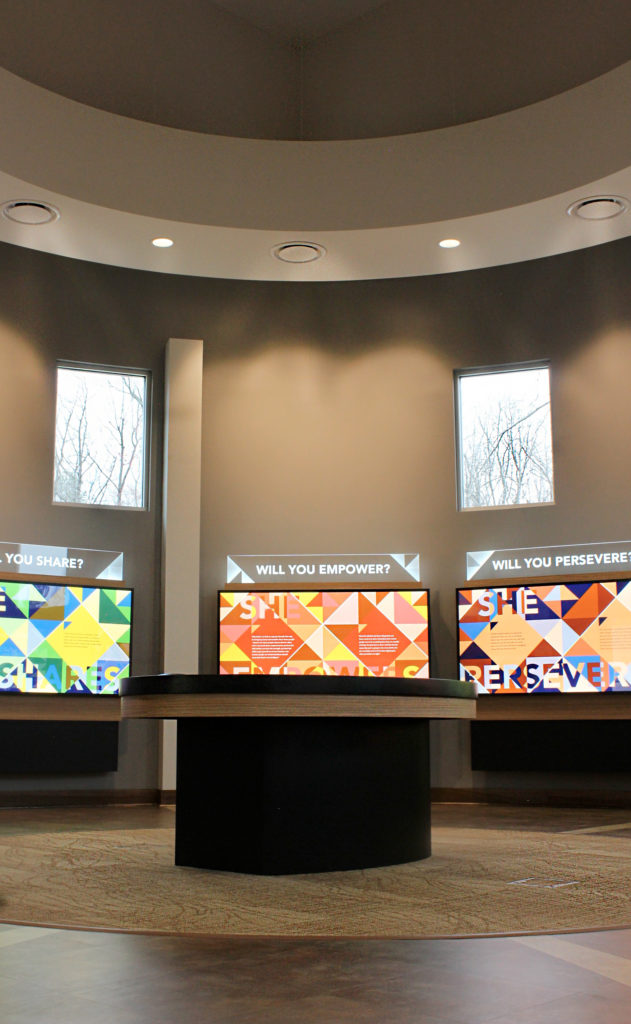 The center was built with the help of $900,000 donated to the city by the exhibit's namesake, Ruth Wicker, who died in 2008. Architect Shermin Ata used concept plans from John Wicker, Ruth's late husband who designed the Greensboro Coliseum to design and build the 3,500 square-foot event center cost more than 3 million dollars to build.
A warm neutral color palette of earth tones in hues found in natural stone, allows guests hosting an event to further personalize the room to their liking. The current art exhibit by Victoria Carlin Milstein adds a touch of liveliness and history to the space, making the area unique. Small lightweight furniture allows for a wide variety of layout options to further customize and personalize the space.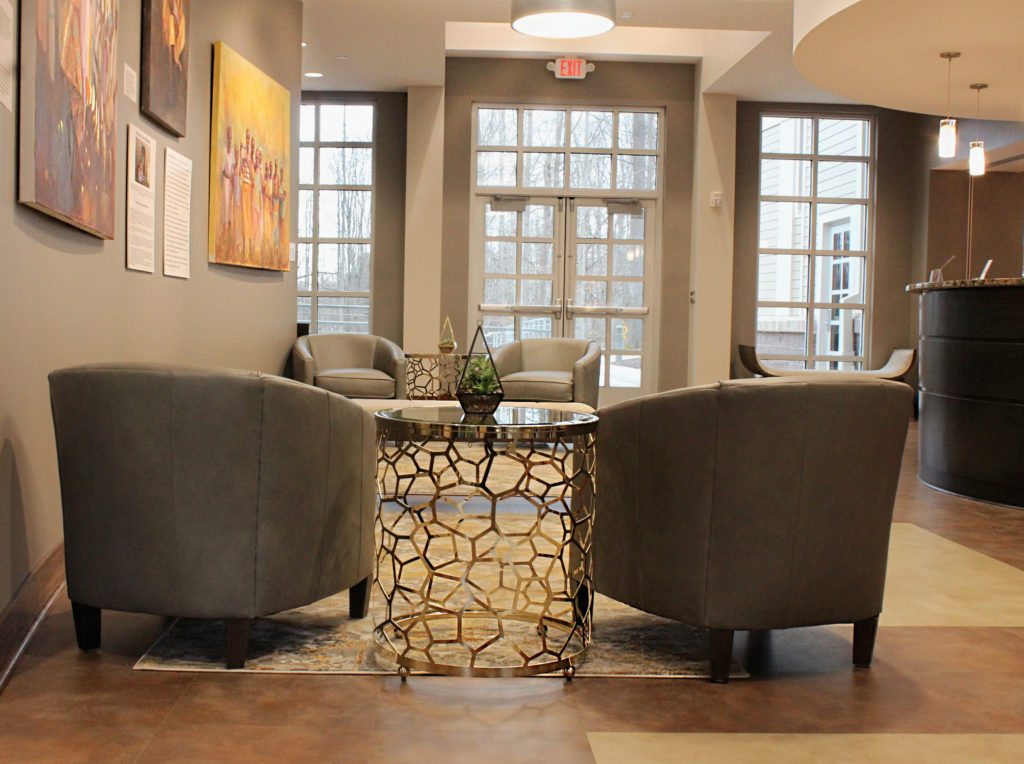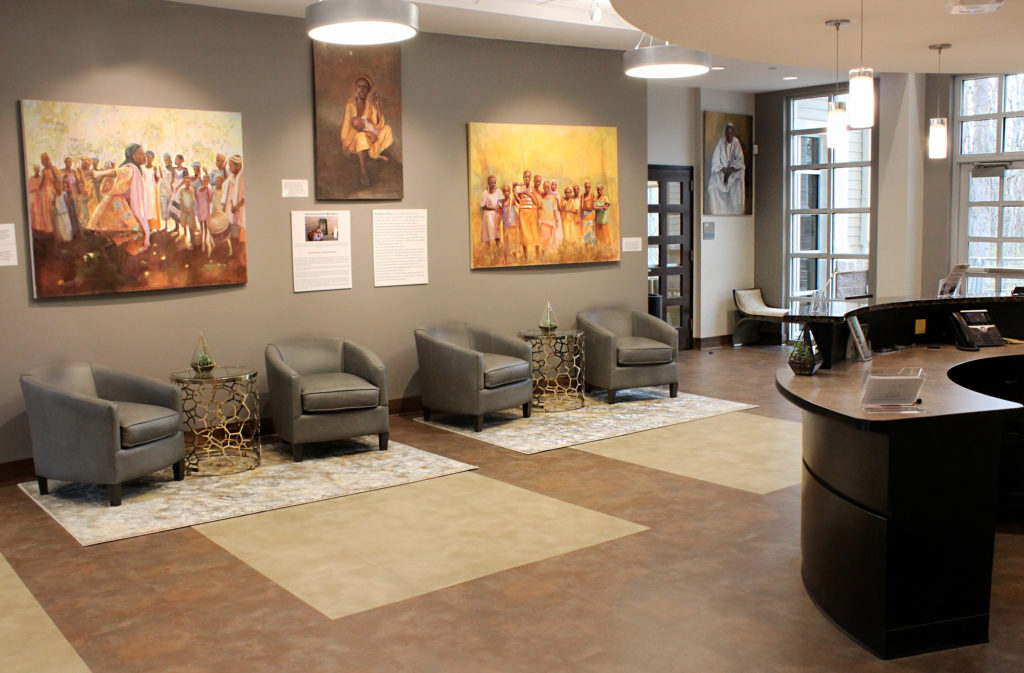 In the lobby, wide sculptural window benches contrast with the tall narrow windows.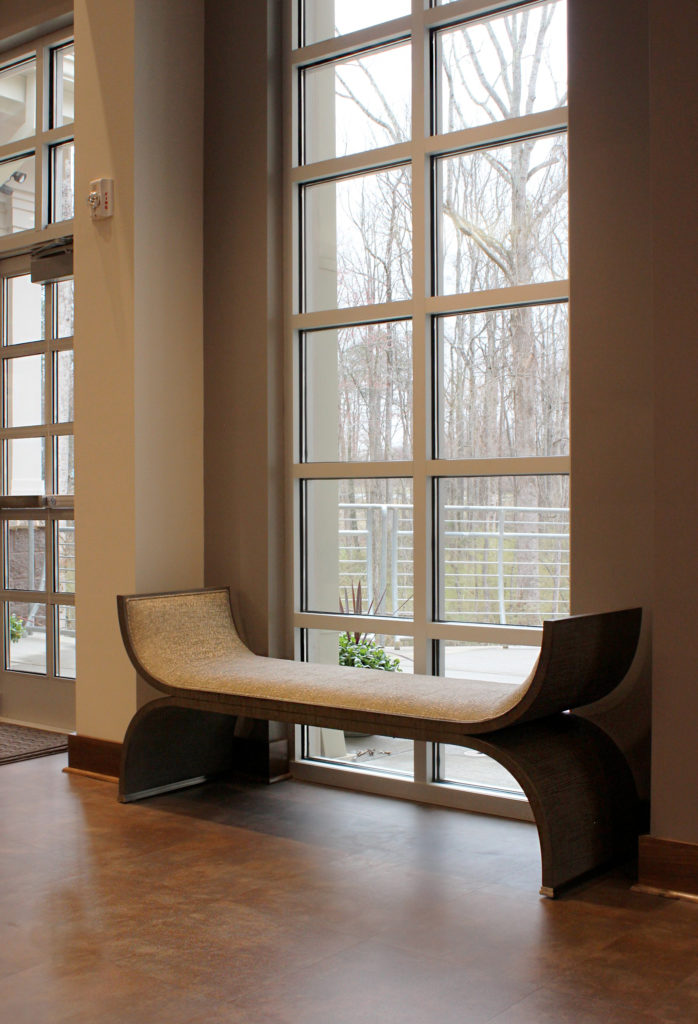 The curvature of the benches add interest and movement. The soft gray wood grain and the nubby fabric texture is gracefully highlighted by the natural light as it shines through the glass.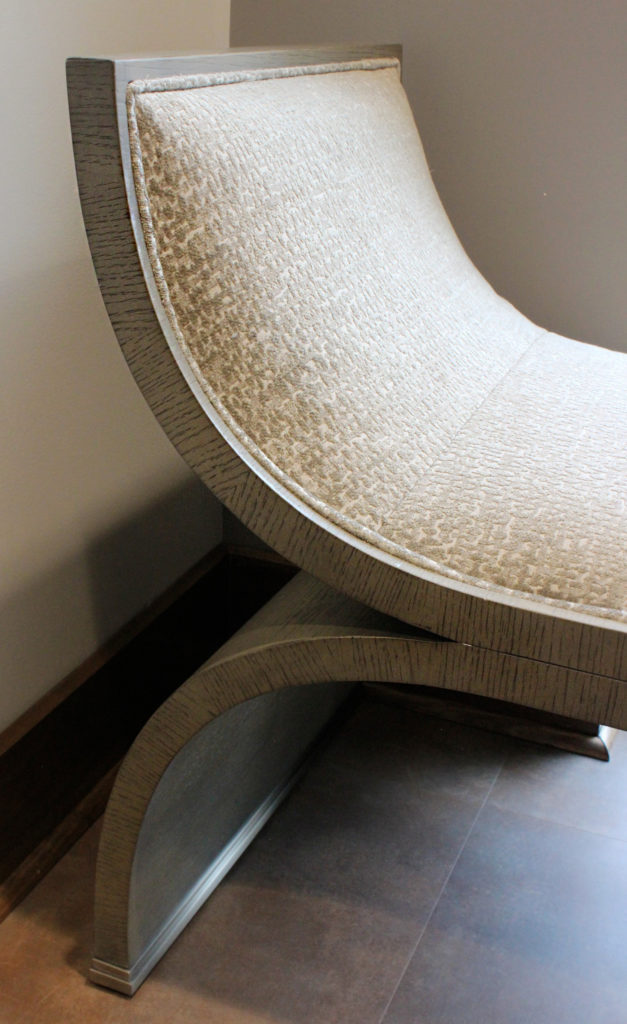 This simple and elegant lounge area allows for further seating away from highly populated spaces. Comfortable yet modern furniture provides extra seating for relaxation and lively conversation. Juxtaposing sleek modern upholstery pieces with textural accents, mixed metal finishes and a range of soft pastels and earth tones adds subtle elegant interest.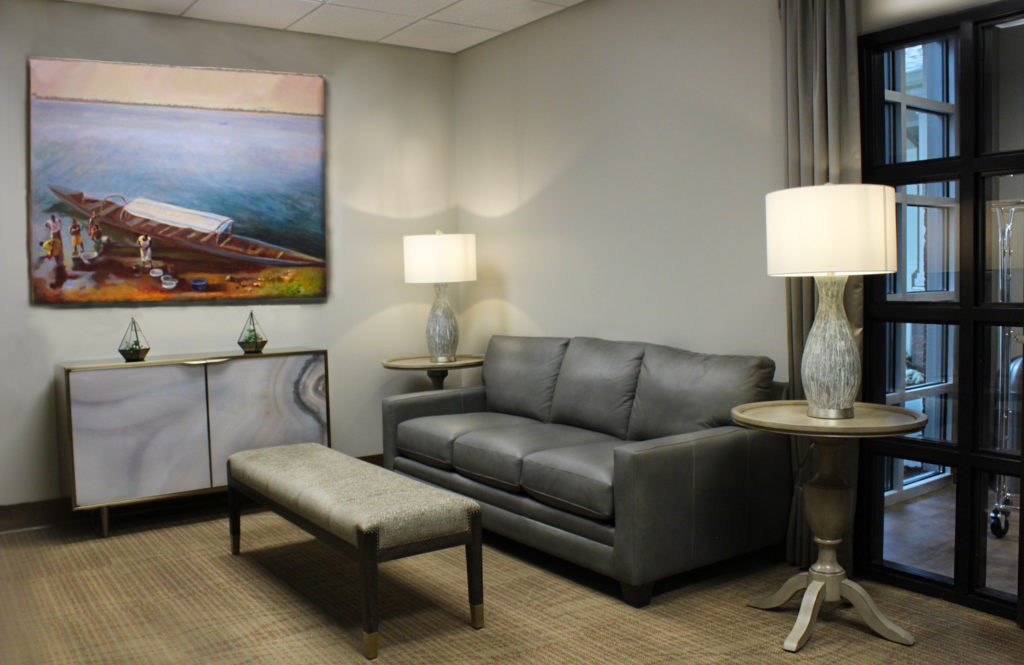 The console doors are made of glass that has been painted (on the back) to resemble a lovely agate natural stone pattern. The subtle pastel palette appears gray at first, but when combined with another lovely Victoria Carlin Milestone painting, subtle shades of blue, purple and yellow begin to emerge and add character to the room.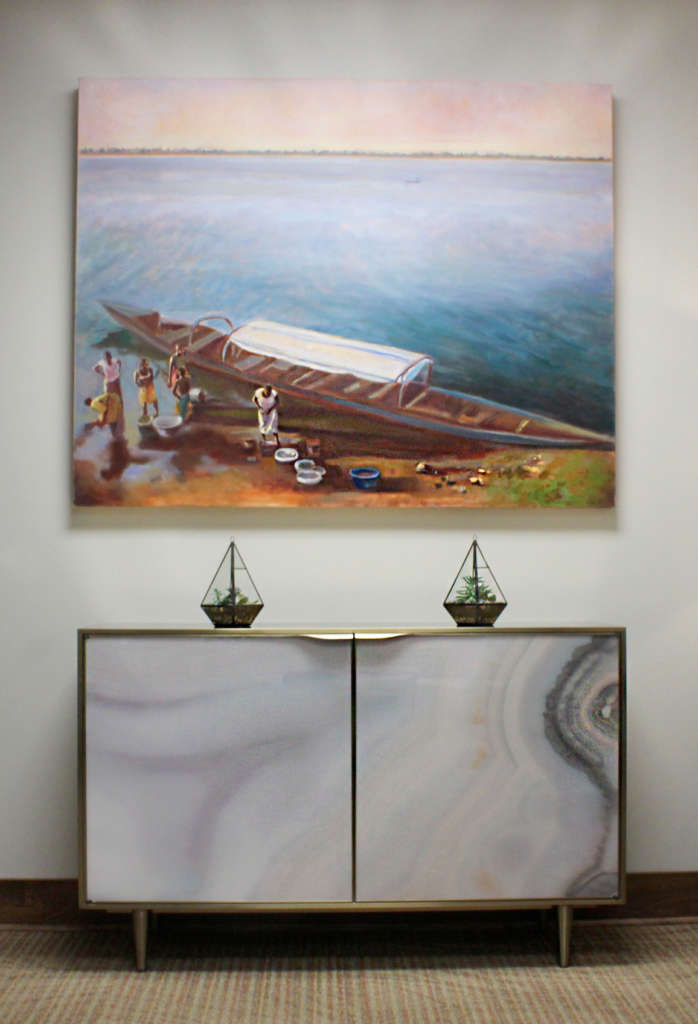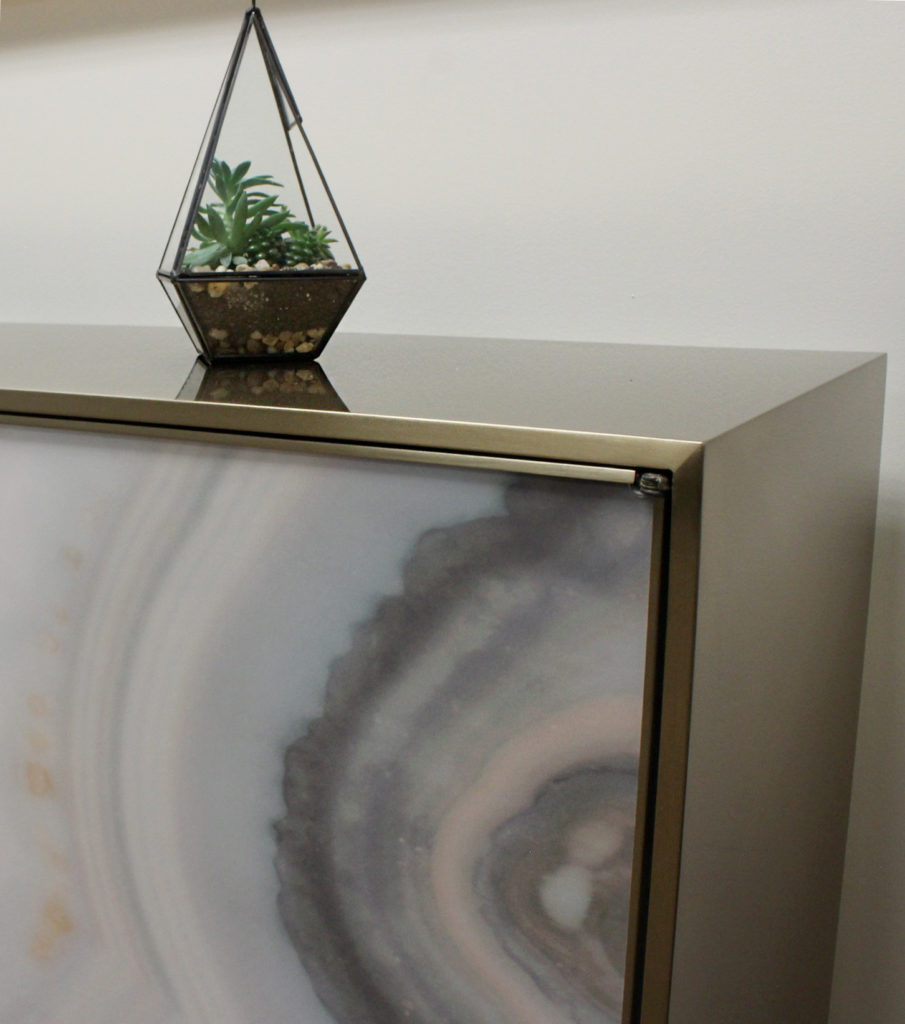 On the opposite side of the lounge area, small table and chairs allow for more intimate conversation and comfort. The geometric upholstery on the chairs gives the room visual interest and movement. Darker wood tones seen in the door, table, and window framing are a direct contrast with the lighter colors of the chairs.
Throughout the lobby and lounge areas, balancing a mixture of metal finishes was instrumental to adding depth, visual interest and texture to each space. Warmer metals such as gold, brass and bronze were sprinkled throughout to add a warm richness and contrast to the cooler tones found in the architecture.
The opening was a grand success with overflow attendance and was covered in numerous local media outlets. Follow links below to see all of the coverage.
https://www.wfmynews2.com/video/news/stand-alone-exhibit-honoring-women-opens-in-greensboro-first-of-its-kind-in-the-state/83-34e73dba-28cd-4c25-976e-a0f35ac795fd
https://www.greensboro.com/news/local_news/new-exhibit-commemorates-greensboro-women-who-made-a-difference/article_a050d28b-b7dc-5ece-974a-5e90e9780bb1.html
https://www.wfmynews2.com/article/news/community/city-of-greensboros-stand-alone-exhibit-honoring-women-will-be-first-of-its-kind-in-the-state/83-2aba42a4-9636-472a-acb2-1251505a17c6
https://www.wunc.org/post/honoring-women-who-made-difference-greensboro
https://www.wfmynews2.com/video/news/barber-park-honors-ruth-wicker/83-3cbb3ab3-a3f9-4f03-93e3-0278bd788a7d
Enter your email to join the Your Favorite Place® Magazine Inspiration Team! Gain access to exclusive content and offerings. Engage with our editors, designers, and people featured in our magazine. Submit ideas, people, and products for consideration in future publications.