Monthly Archives: April 2016
Choose from the following: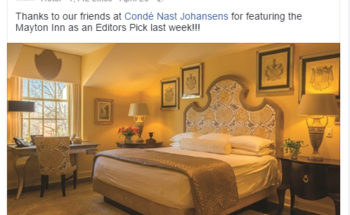 April 26, 2016
"Thanks to our friends at Condé Nast Johansens for featuring the Mayton Inn as an Editors Pick last week!!!"- Mayton Inn via Facebook
Read more
April 12, 2016
"Small, luxurious hotels, known as boutique hotels, are rising in popularity due to their intimate ambiance. The smaller scale allows them to change and evolve more quickly to current trends than some of the larger, busier hotel chains…" Thief River Linen: Boutique Hotel Trends and Themes
Read more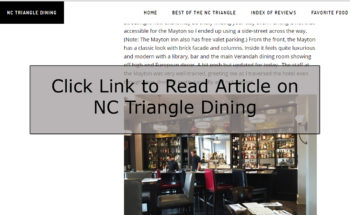 April 10, 2016
NC Triangle Dining "The Best Restaurants, Food and Drink in the NC Triangle" " Inside it feels quite luxurious and modern with a library, bar and the main Verandah dining room showing off high-end European decor…" First Take: Verandah at the New Mayton Inn in Cary!
Read more